Veterans Empowerment Theatre (VET) features a variety of performing arts workshops and opportunities that give our nation's brave service members a safe environment to voice their own heroic stories, personal tragedies, triumphs, and experiences through theatre. Many veterans upon returning from war often turn to drugs and alcohol as a way of dealing with trauma experienced during active duty – many times resulting in homelessness or incarceration. According to the American Journal of Public Health, "Veterans returning from war zone deployment are at higher risk for mental health problems and drug and alcohol abuse."
Heroes' Stories
Heroes' Stories is a program uses theatre as a form of art therapy encouraging participants to explore creative elements and use artistic expression to find a path to overcome addiction, effectively deal with PTSD, and reintegrate into society. This program presents a first hand vie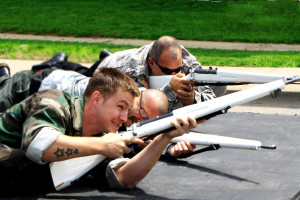 w of the soldiers' experiences in their most raw form, unfiltered by the press or military censorship. Productions give audiences greater insight into the difficulty facing veterans returning from deployment. Performances depict real encounters from the front lines of battle and expose the inner turmoil of the lasting scars, both external and internal endured from combat.
Full Scope
In February, 2015 select Theatre by the Blind members joined forces with military veterans in our newest program, Full Scope for the staging their first original production titled, "Nobody Told Me," which was based on the real-life stories of our military veteran participants. Perhaps the most exciting news our organization has to report is that following one of the performances of "Nobody Told Me," Joseph Chicas, current Veterans Affairs Coordinator in the office of Mayor Eric Garcetti reached out to three of our veteran participants who were homeless at the time of the show and offered to assist them in finding affordable housing. We are grateful that participation in our programming has been able to positively affect so many lives in the communities we serve.
Give Vets Jobs
In early 2016, CRE Outreach is launching a new Veteran Hiring Initiative entitled Give Vets Jobs. Our goal is to create a comprehensive veteran hiring program that identifies unemployed and underemployed military vets, provides job preparation and job skills training, and finds potential employment opportunities while facilitating the scheduling and interviewing of the program's participants.
CRE Outreach is teaming up with Los Angeles based Veterans Service groups, including the Long Beach Veterans Affairs, the L.A. Department of Military and Veterans Affairs, and Veterans in Film and Television, in order to identify and recruit participants for the program. To help facilitate the job preparation and skills training, CRE is partnering with Challenger, Gray, and Christmas, the country's oldest and most reputable job placement firm. Finally, CRE is working with Starbucks, who is taking a lead corporate role in helping support and promote the campaign, both in job hiring opportunities, but also through a broad marketing campaign.
These brave men and women have risked so much for us, now it's our turn to do everything we can to make sure that they have meaningful employment opportunities as they transition to civilian life.