Upcoming Events
Veterans Empowerment Theatre Presents:
"The Hero Within"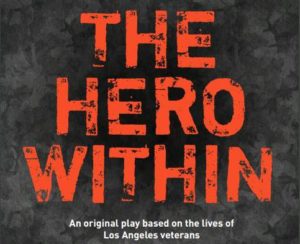 WHEN: July 7 – 9, 2017
Friday & Saturday @ 8PM; Sunday @ 3PM
WHERE: LA Performance Center
1404 3rd Street Promenade
Santa Monica, CA 90401
DETAILS: "Hard times don't create heroes. It is during the hard times when the 'hero' within us is revealed." – Bob Riley
After completion of a successful operation, the Joint Task Force of the Air Force, Army, Navy, and Marines has gathered veterans to be recognized as heroes. However, the effects of trauma trigger one veteran in attendance to do the unthinkable. From there, we follow the trials and tribulations of seven brave men and women along their path from civilian life to joining the military to their return home, as they search for the hero within. Filled with both lighthearted comedy and dramatic moments that will leave you on the edge of your seat, The Hero Within brings veterans' personal stories to life through an artistic journey that gives voice to the difficulty of transitioning from the war zone back into society.