Upcoming Events
Theatre by the Blind Presents:
"In Sight"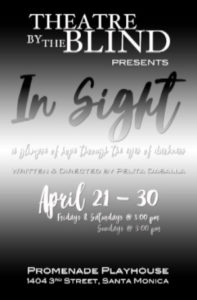 WHEN: April 21 – 30, 2017
Fridays and Saturdays @ 8PM; Sundays @ 3PM
WHERE: Promenade Playhouse
1404 3rd Street Promenade, Santa Monica
DETAILS: A glimpse of hope through the eyes of darkness.
Yvette Hall never thought she would be experiencing darkness at such a rapid rate at the age of 43. She is losing her vision and is not quite sure how to grasp the idea of soon becoming blind. But she would never have expected that her job at the Italian joint would put her in situations to not only meet people that will help her cope with her rising disease, but also teach her to have the courage to tackle her struggles head on.
"In Sight" is a heartfelt story that's filled with honesty and situations one may face when losing sight. It deals with real facts and teaches that even in the darkness you can still find hope and humour in an unfortunate circumstance.
Veterans Empowerment Theatre Presents:
"The Hero Within"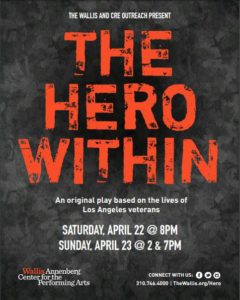 WHEN: April 22 – 23, 2017
Saturday @ 8PM; Sunday @ 2PM & 7PM
WHERE: Lovelace Studio Theatre @ Wallis Annenberg Center
9390 N. Santa Monica Blvd. Beverly Hills
DETAILS: "Hard times don't create heroes. It is during the hard times when the 'hero' within us is revealed." – Bob Riley
After completion of a successful operation, the Joint Task Force of the Air Force, Army, Navy, and Marines has gathered veterans to be recognized as heroes. However, the effects of trauma trigger one veteran in attendance to do the unthinkable. From there, we follow the trials and tribulations of seven brave men and women along their path from civilian life to joining the military to their return home, as they search for the hero within. Filled with both lighthearted comedy and dramatic moments that will leave you on the edge of your seat, The Hero Within brings veterans' personal stories to life through an artistic journey that gives voice to the difficulty of transitioning from the war zone back into society.